CROSSFIT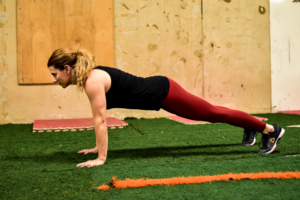 The backbone of this program is traditional CrossFit workouts, focusing on strength, conditioning, and mobility. These workouts combine gymnastics, weightlifting, and metabolic conditioning in varying degrees and durations to create unparalleled results. From the basic (but all-important) air squat all the way to very technical gymnastic movements and Olympic lifts, we utilize them all and make it workable for anyone at any level of fitness. We build strength, endurance, agility, technical ability, and general awareness of body and mind by training movements that support functional ability and translate to real life.
Jumpstart Challenge
This 4 week program is for those who are beginners at CrossFit. You do not need any type of background in fitness to join – only the desire to work hard and finish the challenge.
This challenge was created to make functional training and its community accessible to all people!
It will be difficult.  Expect to be pushed and challenged throughout and with your dedication you will will succeed.  Keep going, keep showing up and keep making the decisions you KNOW will get you where you want to be.  
Nutrition is key.  Eat lean meats, vegetables, fruits, nuts and seeds, a little starch and grains.  Enjoy life responsibly.
Focus on the process, not the end result.  Your small, consistent, daily actions get you there.  Stay focused on the here and now.  We'll guide you.
This challenge always sells out.  Serious applicants only.
PERSONAL TRAINING
Our personal training sessions are the most effective and efficient way to achieve your personal fitness goals, whether you're just starting out on your fitness journey, or an experienced athlete looking to become more well-rounded with specialized, individual training. Sign up for our personal training sessions where one of our world-class coaches will work with you to help define your goals, develop a specific program and be your personal guide. Each session is designed just for you with a set of eyes on you at all times to ensure you're getting value out of every one of those minutes.
Youth Strength & Conditioning

Our Youth Strength and Conditioning program is rooted in the principles of CrossFit Kids and focusses on developing overall athleticism and proper movement mechanics. Our youngest members are taught to move well now so that they continue to move well (and prevent injuries) as they continue into adulthood. This program also demonstrates a community based on mutual respect and encouragement, building self-confidence and an appreciation for relationships. Our Youth Strength and Conditioning program creates effective and efficient class structures that are age appropriate and never boring. It's an active alternative to the modern lives we live that affect all generations.
The needs of kindergarteners and high-school athletes differ by degree and not kind; the program is scalable for any age or experience level. We take basic movements that kids naturally enjoy doing, like pushing, pulling, jumping and running, and create a training program that meets the needs of our youth athletes. Our youngest athletes are mentored and coached under the guidance of our highly trained Youth Strength and Conditioning coaches.
PRECISION NUTRITION COACHING

Nutrition Coaching is tailored specifically to meet your needs and maximize results as you work towards your goals. We make what most people find to be the hardest part of fitness simple and flexible. We'll work together to find what works for you as a unique individual, and teach you how to make your body and food work for you as a coordinated system. All of our programs as a workout regimen is proven to provide superior results over the typical gym routine; dialing in nutrition boosts results not only in body composition but also rate of recovery so that your work capacity increases dramatically.
Join our community
Ready to join a group of like-minded individuals who will help you achieve your fitness goals? Sign up today!